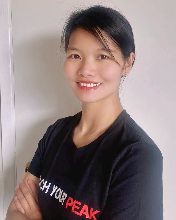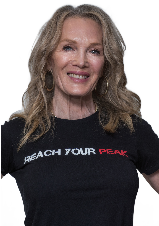 David Clapp (SUCK IT UP Fitness) ~ Over 30 years of experience as a Master Fitness Trainer, David earned his degree in Exercies Physiology and Athletic Training at Manhattan College in his native New York State. His experiences include Physical Therapy Intern, Chiropractic Assistant, Strength Coach, Athletic Trainer and College Professor of Exercise Science at Pace University. David's specialties include General Fitness, Sports Specific Training, Rehabilitative Exercise, Olympic Lifting and many others. David has enjoyed living in the Northwest since 1998. David opened PEAK in 2016 as a private studio to provide professional personal training in a space where he and other trainers could have all the privacy and all the tools necessary for the BEST client training experience. He lives in West Linn with his wife Diana and their 3 amazing cats. He loves music! He sings, plays guitar and harmonica in his spare time at many bars and restaurants around the local area.
Denise Allen (Body by D) ~ Denise began her career in 1986 as a group fitness instructor and over the years has expanded her repertoire as a professional dancer, head dance team coach, personal trainer and a nutritional therapy practitioner. The evolution of fitness and nutrition is vast and Denise stays up to date by attending fitness workshop, studying the latest research and consistently continuing her education. She strives to help her clients understand the strong relationship between exercise and nutrition, as well as obtaining a good balance between a healthy lifestyle and a busy schedule. Moving her business to PEAK in 2016 was a perfect move. She loves her clients, loves her work space and you will find her passionate about sharing her energy, no matter what kind of day you are having.
Grant Nelson (Alpha Health & Fitness) ~ Having played sports and staying active most of his young life, Grant soon discovered his passion for health and fitness. In 2012 he turned his passion into a career after graduating from the National Personal Training Institute in Beaverton. From 2013- 2016 he was the Fitness Manager at Boom Fitness. Grant created an environment for other trainers to learn and grow in their profession through weekly education based meetings focusing around anatomy and exercise philosophy. Over the years Grant has worked with a wide variety of clients and various goals helping him become a well rounded trainer. With a strong drive and dedication to all of his clients, he is determined to do everything in his power to create a truly holistic training environment. Understanding that you can't separate the body from the mind, he does not just focus on calories burnt and weights lifted, but instead focuses on each individuals specific circumstance life may throw their way. Always striving to be a life long student, Grant stays current with the latest health and fitness research by attending conferences, reading books by the top authors in the field and following the latest podcasts so he has all the tools to give his clients the best training experience possible!
Elissa Helligas ~ Born and raised in Oregon, Elissa has been working in the fitness industry over 6 years. She has played sports most of her life, her favorite is rugby which she played for 15 years. While in college, Elissa was inactive and had a terrible relationship with food. After gaining an interest in positive body image and living a healthy lifestyle, she decided she wanted to help herself and others feel strong, confident, and comfortable in their own skin. She switched her major to Exercise Science and Nutrition and a passion was born.
Having been overweight and out of shape most of her younger years, she knows how it can affect every aspect of your life. She wants to be there and guide those who want to bring about positive lifestyle change, helping them discover a love for training and for the skin you're in. She understands that its a combination of exercise, diet, and self-reflective work, and she is here to help you to reach your goals and live your life to your fullest potential.
She specializes in HIIT training, functional training, boxing, and TRX. She loves to create programs as diverse as her clients and tailors each program to individual wants and needs. She understands that life can be hectic and it's often tough to find time to workout. She uses her experience and skill to design manageable, enjoyable programs proven to work.
In her spare time she likes to spend time playing yard games in the sun, dancing, doing yoga, and dining al fresco.
Li Xia ~ Li Xia brings international expertise to the Peak team, with more than 15 years experience as a personal trainer. Her passions are strength building, weight loss, cardio, ABT and yoga/stretching. From 2009-2019, Li Xia worked as a high-volume personal trainer for Shanghai Jinqiao Megafit Gym, one of China?s premier fitness organizations. For past three years, Li Xia has also developed a robust online training repertoire.
Her certifications include: Australian Training & Fitness Exercise Therapist, Chinese Certificate for 3D Anatomy and Human Kinetic Science, Chinese EPTC Sports Rehabilitation Trainer Certification, EPTC Fat-burning & Body Toning certification, Shanghai National Vocational Qualification, Y Plus yoga alliance certified teacher, Magafit Hong Kong TRX training certification, USA functional movement screen certification.
Bobbi Parker Hall ~ Bobbi has been in the fitness business for more than 25 years. She is passionate about shaking up old stereotypes that dictate how we should age. She loves helping clients overcome mental and physical hurdles to break through their own limiting beliefs of what is possible for them.
Be the best you can be at any age is her motto. Her mission is to empower and inspire all women and men, regardless of their age, that it's never too late to get the body you of which you've always dreamed.
At age 54, she competed in her first over-50 National Physique Committee bikini competition. Her success inspired Bobbi to compete in three more competitions over the next five years.
Bobbi is in demand with media outlets to share her fitness philosophy, tips, and favorite exercises. She shared a fitness routine on KOIN TV in March 2021, and in February 2020 she was a guest on the Tamron Hall Show in a Fit over 50 segment. She has appeared in many online publications such as Oxygen magazine, Dfyne Fitness, Daily Star, and Yahoo news.
Bobbi is a Portland native. Her favorite activities include lifting weights, getting outside to walk and hike, and she loves spending time with family and friends and visiting her two grown children.
Phil Kornachuk ~ Functional fitness was a critical part of Phil?s 22-year career as a special operations soldier. With service as a member of the US Army?s elite Ranger Regiment as well as extensive time as a Green Beret, keeping himself and his unit in peak mental and physical shape was mission essential.
Phil has been an ACE Certified Personal Trainer since 2017 with a focus on functional fitness, executive health programs, tactical group fitness and the overlap between physical well-being, outdoors and leadership. He holds a BS in Biology and an MA in Organizational Leadership from Gonzaga University.
Phil has experience training clients ranging from middle-school athletes, commandos to senior business executives.
When not working, Phil tries to keep up with his 8 kids and his incredible Ironman, med-school student wife, Tana!