Client Testimonials for Grant Nelson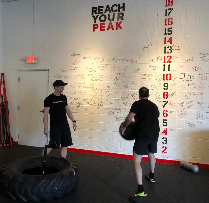 "I have been working with Grant since 2013. At 57 and finally listening to how important healthy eating is, I'm in the best shape that I have ever been in! Anytime I've tried training on my own, I have suffered injuries. Grant always knows how to get me back to my training level. I enjoy training at PEAK. It's small enough that you know most people around you and their trainers, yet there is a large variety of equipment. I also appreciate how clean and organized this gym always is."
- Becky Coleman
"Grant has been my personal trainer since 2016. I use to hate working out & now really enjoy it. His custom approach, attention to detail, and motivational style keeps the workouts fun and interesting. Grant listens to your needs and is both educational and supportive. My husband and my daughter also train with Grant. He has inspired me to pursue a career in the fitness industry. The environment at PEAK is very welcoming and everyone there is amazing."
- Heather Schoenrock
"Grant Nelson is absolutely brilliant. He has helped me recover from several minor painful injuries and has worked in conjunction with me and some of my clients. He gives each person he sees special attention as if they are his only client. He checks with you each time he sees you to be sure there were no new injuries since he saw you last and taylors your work out to just what you need, not the same workout he gives everyone. He is also a good person, kind, patient and understanding. You can't find a better Personal Trainer than Grant."
- Debbie DeShields, LMT
" I have been training with Grant for close to a year now. I really enjoy working out with him because he challenges me and comes with different programs so I don't get bored. I have noticed a huge improvement in muscle tone in the areas I wanted to make some changes. I have been an athlete most of my life and really appreciate a challenging workout. Grant always delivers!"
- Morgan Pollack