Client Testimoninals for David Clapp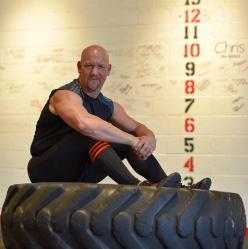 "David has been an invaluable trainer, expanding my strength, endurance and stamina to levels I can never do justice to describe. At age 50 I decided that muscle development should not be a fleeting wish but an attainable reality. David proved to be an inspiration and a skilled and valued fitness coach that enabled me to rise to fitness levels that has met and exceeded my goals. At age 61, I deadlift 410 lbs., curl 65 lbs dumbbells, and rival men half my age with my endurance and overall fitness. David has proven to me that age can be just a number."
- Steve Mahaffey
"Dave is awesome. He's been fantastic and worked with me throughout pregnancies and an injury. He's kept me fit, and made sure that I don't (re)injuring myself."
- Ashley Yorra
"David is truly an excellent trainer. He is the perfect combination of tough ("Dude, you are KILLING me!") and warm ("Dude, you are doing SO well"), and he works with the whole person -- mentally, emotionally and physically. Because of David's efforts, I am stronger and more flexible, I have better balance and most importantly, working out has become fun. I highly recommend David without reservation."
- Shawn Cox
"3 months after major back surgery I started training with David. He helped me safely gain strength, agility and flexibility so that I could pass my Taekwondo Black Belt test later that year."
- Wendy Allen
"David has served for several years as the personal trainer for my wife, myself and now our two sons, ages 19 and 17. Our individual needs with respect to physical exercise, nutritional information, and even daily motivation vary greatly, and his ability to meaningfully tailor his approach, often with little or no advance warning from us - is remarkable. We have enormous confidence in his knowledge and abilities and highly recommend him."
- Rick Deats
"As a 71 year old geezer I did not need a Nazi trainer type to push me. I did need and got from David someone who would really listen to what I needed and put together a bunch of exercise pieces that I could shuffle around as my body would accept. He helped me turn it around big time. This man is outstanding, as good as it gets!!!"
- Jerry Fadden
"As an aging but lifelong runner and fitness advocate, my needs are to remain strong while not getting injured. After training with Dave for several years, I respect his knowledge of the body and his ability to adjust workouts to what is best for me to supplement what I do with the rest of my life. In my opinion he is an expert trainer. I recommend him highly."
- Jon Harnish
"I have been a client of David Clapp's since 2014 now and I always look forward to our workout. David is smart, compassionate and punctual and he knows what each person is capable of doing. He knows what each of his clients are capable of and is very knowledgeable about the human body. Since I started working with David, I have lost around 50 lbs! I recommend David Clapp to anyone who is serious about getting healthy. As David says, SUCK IT UP!"
- Bill Muir
"Simply the best! Knowledge, dedication and great sense of humor. David is perfect trainer!"
- Kristi Rice
"I have worked with Dave since 2011. I have found his knowledge of the human body and physical fitness to be grounded in reality as to the age of his client. Cannot recommend him more highly except for his support of the NY Giants."
- Chris Hall
"I have worked with David on an individual bases, in classes and many excursions outside the club (Mtn Climbing, Cycling, Etc). I have always appreciated his ability to read his client. He knows when to PUSH you and when to SLOW it down."
- Rich Allison
"Fantastic! I have been training with David since 2018, this is my first experience with personal training and the results have been excellent. David has extensive knowledge in all things about the body which has helped me in many ways, not only physically but the mental aspects as well. If you're thinking about using his services I would encourage you to spend some time getting to know him and his thought process around training, you'll be sold!"
- Mike Martin
"David is able to push, prod and encourage you to reach your goals, all in a positive way. If rehab is required, his knowledge is indispensable in a quick and thoughtful recovery."
- Gary Lundgren
"I have worked with David Clapp since 2009, and recommend him highly. David's flexible approach to the changing needs of his clients, taking on new sports or activities, bolstering endurance and strength, recovering from injury - reflects his immense knowledge and expertise. David truly cares that his clients gain mastery over their own health and well-being, which translates into very informative training sessions focused on technique, nutrition and overall lifestyle."
- K Day
"Retired, in my 70's needed to readjust after 30 years in a desk job to set up my next 30 years. Changed my diet and added exercise. David was my choice! A career professional, he can deliver what ever your age and physical goals may be."
- John Givens
"I was given a Christmas gift of David Clapp as my personal trainer by my family because I was so out of shape they were worried that may suffer a major medical issue as a result. His blend of encouragement and tough love blended with his vast knowledge given his college degree in exercise physiology and extensive experience were the perfect combination to get me on a road to health. Today my strength, exercise capacity and overall health have all dramatically improved thanks to David's guidance."
- Noury Al-Khaledy
"When I lived on the East Coast, I worked out with several trainers, the last of whom I worked with four days a week from 2004 to 2017. So when I moved to Lake Oswego, my top priority was finding a trainer. Fortunately, in October, 2017, I found David Clapp at Peak Personal Training and have worked out with him three days a week ever since. David is by far the most skilled of my trainers. Without exception, he maximizes my physical output each and every session. We begin with numerous stretches and an opportunity for me to relate special requests. For example, if my back is sore or if I've pulled a muscle, David will adapt the session accordingly. David is well credentialed in the science of physiology. Safety is his main concern and David exerts his maximum effort each session to make certain my form is proper so as to prevent injuries. I recommend David Clapp without reservation."
- Arthur Waters
"As a 15 year old Freshman, I trained with David for his 6-week program. He taught me how to lift safely while increasing my strength. By the end of the 6 weeks, my bench press weight increased over 20 percent and squat weight increased 18 percent."
- Stuart Allen
"I've been working with Dave for about a year and half and he has really helped me with balance, conditioning and stamina. What I enjoy is his encouragement and ability to keep challenging me as I get more physically fit."
- Anil Kuruvilla
"I have worked with David Clapp on a regular basis since 2014. Because of his skill and patience, I can honestly say that he has professionally helped me to reach my 90ies with good health and mobility."
- Deborah Ogden
"I've worked with David over the years and have appreciated it ever since we met. I needed to get back to being more healthy, get back to being fit, better nutrition and overall staying healthy that is sustainable. He was and still is fabulous. He worked with me and developed a plan and routine that would work and be best for me.
Physically I'm different than the average person and his knowledge to modify and cater the workout that would work and be best for me was great. I love his personal attention, his toughness, his cheering me on when I wanted to give up, his experience and his passion in helping me and others get back to and maintain a healthy lifestyle not only through fitness/exercise but all areas of ones life. He is awesome and definitely made a difference in my life. Highly recommend David and Peak Personal Training. You'll have no regrets."
- Amy Roloff "Little People, Big World"
"Working with David has improved my confidence, my performance in a physically demanding job, and kept me off the "disabled list". I am lucky to be working with Suck It Up fitness."
-Dr. Adam Silverblatt